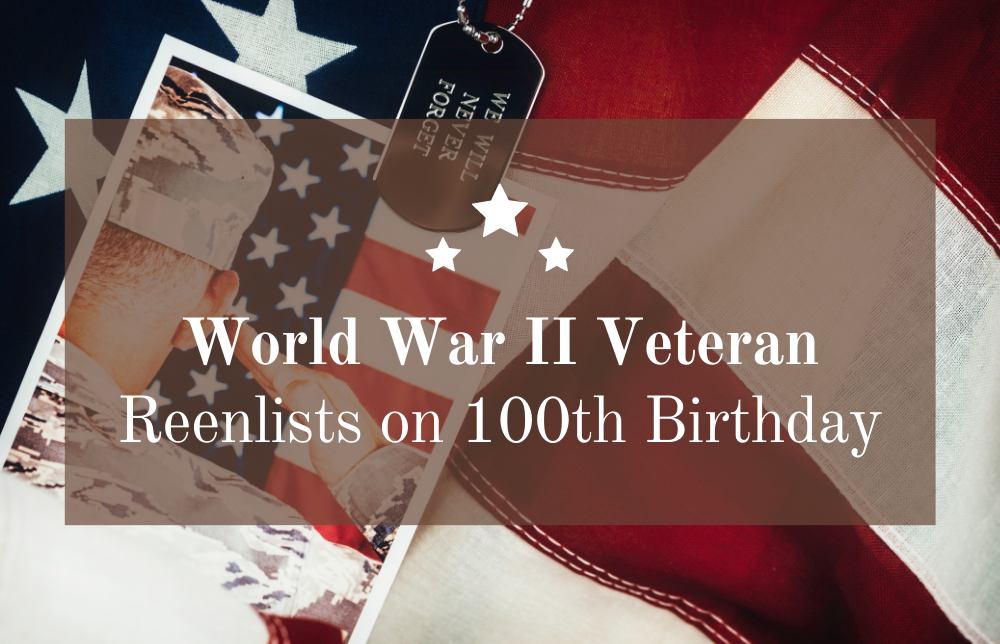 World War II Veteran Reenlists on 100th birthday
March 1, 2023
On his first day as a centenarian, Robert "Bob" Munie got his birthday wish to return how he spent his years as a young man: serving his country.
Munie, who now lives in an assisted living facility, told staff that his one wish for his 100th birthday was to reenlist in the armed forces after having served in World War II with the U.S. Army Corps of Engineers and later in the U.S. Air Force.
On his birthday, Munie was delighted and surprised to have his wish granted. Before nearly 100 spectators, the Michigan Air National Guard reenlisted him for one day as an honorary technical sergeant
"This gentleman is a World War II veteran," retired U.S. Air Force Col. Frank Walker said during the ceremony. "This is a small token of appreciation for a gentleman who has given so much to his family and his nation."
Battle Creek Mayor Mark Behnke presented Munie with a key to the city during the celebration. Munie also received a deployment gift package from the Battle Creek chapter of Blue Star Mothers, pins from the Michigan Air National Guard, and heartwarming birthday cards from area schoolchildren. Perhaps the most humorous gift was a check from the Calhoun County Red White Blue Foundation for $127, the equivalent of one month pay for a U.S. Air Force staff sergeant in 1953.
The ceremony also included a flyover from two World War II-era planes from Hooligans Flight Team and a "Happy Birthday" song from all who gathered.
"I couldn't say what was the best," Munie said of the surprise. "I couldn't believe it!"
Munie was born in Illinois in 1922, where he was raised as one of 10 children. Upon graduation from high school, Munie was drafted into the U.S. Army Corps. of Engineers. Munie was sent to Alaska, England, France, Belgium and Germany to repair bridges and roads that had been destroyed. When World War II ended, he reenlisted with the Air Force, decoding messages for about six years.
He married Therese Currier in 1967, whom he spent the next 33 years until her death. Munie's three children and several of his seven grandchildren were in attendance for the ceremony.
His son, Joe Munie, said he appreciated seeing how happy the ceremony made his father. "To see him be part of that one last time is really cool," he said. "We heard all this stuff growing up, but you don't appreciate it until you get down the road."
Mary Ruger, Munie's youngest daughter, added, "We've never seen him in uniform, so that was neat. He deserves it."
This is just one example how times have changed, and nursing homes provide a standard of care and quality of life that are greatly improved. Take the time to visit local long-term care facility and see for yourself. This will give you the ability to know your options down the road before an emergency requires a rushed decision. You might realize that you or your loved one could be best off in a facility with professionals who are trained and able to help.
It can be a difficult decision, but it's easier when you have a long-term care policy designed to cover quality care and services and helps to protect your retirement savings. Ask a skilled AMBA agent if a Long-Term Care policy, endorsed by IRTA, is right for you. Find out more by calling AMBA at 866-979-0497 or click to request a free Benefits Review.
Source: https://www.wilx.com/2022/10/07/wwii-veteran-celebrating-his-100th-birthday-battle-creek-gets-his-wish/
RECENT POSTS
When Springtime Is Allergy Time: 8 Steps to Avoid Suffering in 2023
Flowers and trees are starting to bloom, the birds are singing, and the sun is shining – once again, spring is here!
Read More